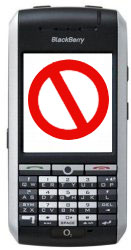 Finally, Palm and Cingular released BlackBerry Connect (BBC) for the Treo 650. I saw it in
engadget
yesterday. I pinged our IT guy about what version of BlackBerry Enterprise Server (BES) we have and it is v4.0 with SP2. That is enough for BlackBerry Connect.
So on the way in this morning, I dialed 611 to ask them about how much the BlackBerry Connect was. That was a trip. They finally connected me to the BlackBerry support group who actually knew what was going on. I had PDA Connect Unlimited for $39.99. BlackBerry Connect Unlimited is $44.99. I went ahead and had them convert me to that.
Then I stopped by the BES guy at work and told him I was going to do it today. He set me up an account on the BES and off I went.
The page that engadget linked to (
http://www.palm.com/us/software/blackberryconnect/
) was pretty good and the "Download" link took you to another page (
http://www.palm.com/us/software/blackberryconnect/getitnow.html
) that told you specifically what you needed.
I clicked on "Download BlackBerry Connect" and got hit with an odd question. Had "I purchased my Treo 650 smartphone on or before June 3, 2006." First I clicked that I had and was taken to a page to buy the software for $9.99. Well, you know how I feel about buying software so I backed up and clicked on the other link.
On that page, I was asked for my Treo 650 serial #. I entered it and the download began. So far, so good. So you don't have to jump ahead, it continued being good.
The download completed. I unzipped it and ran the .exe. It told me what it was going to do. It installed the BlackBerry Connect Desktop and updated the Versamail and Calendar applications on the Treo 650. It told me it would require 2 soft resets and 2 HotSyncs of the Treo 650 and it did. I didn't have to reboot the laptop.
During the second HotSync, it started asking questions about my Lotus Notes account. Unlike ExtendConnect's OneBridge that wanted the Sametime password, BBC wanted my real Notes password. I had to override the assumed BES to point to the one that my account was on but the BES guy had told me which one to specify.
Once the install finished, I couldn't immediately see anything different on the Treo 650. In retrospect, that was an indicator of how well integrated BBC is with the Treo 650. I finally just went to Versamail and the title said "BBC" but the screen was blank. My heart dropped. Just before I really panicked, the inbasket began populating!
Backing up for just a second, there is no separate application on the Treo 650 to manage the BBC. All of the settings I have found are in the menus for Versamail. Oh, some are set on the BlackBerry Connect Desktop, just like with a RIM BlackBerry, e.g. the signature.
After I had worn myself out playing with it, I thought I'd better try my POP3 account in Versamail. You guessed it. It didn't work. The network wouldn't connect. I called up the Enterprise Support at Cingular. They could immediately tell what was wrong. They had to fix something on their end. They had me turn off the phone, wait 30 seconds, and turn it back on. That got it.
The support page is
here
. That page includes the
BlackBerry Connect Setup Guide
, the
BlackBerry Connect User Guide
, and the
Datasheet
.
It worked great all day. There are a couple of wish list items but I'm not so certain that I just haven't figured them out yet. After all, I've only had it working 6 hours so far.
The alerts for the push e-mail are based on the Treo 650's Prefs, Sounds & Alerts, General, Application: System. If you set this to "Off," you only get a visible alert, i.e. the blinking asterisk. If you set this to "On," then the Treo 650 beeps every time you do ANYTHING. I confirmed this with Palm today.
You can't "File" e-mails from the BBC to your Notes server account, for example to move mail to a "Spam" folder.
You can't set a schedule for synchronizing like with a RIM BlackBerry or the ExtendConnect OneBridge application. This is going to be a nuisance over weekends.
If you have any ideas on these items let me know. If I make any progress, I'll post again.