Today, Microsoft has released a "Malicious Software Removal Tool." You can get it
here
. According to Microsoft, it
...checks Windows XP, Windows 2000, and Windows Server 2003 computers for and helps remove infections by specific, prevalent malicious software—including Blaster, Sasser, and Mydoom. When the detection and removal process is complete, the tool displays a report describing the outcome, including which, if any, malicious software was detected and removed.
Notice they didn't mention Windows 98 or ME.
They said that this program will be updated on the second Tuesday of each month in the regular patch cycle.
If you're running Internet Explorer (why would you be doing that?), you can even run the tool online on this same page.
Here's what the output looks like: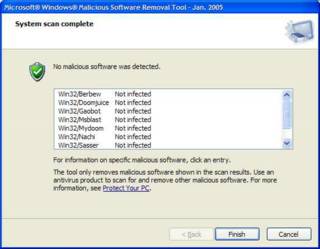 There's a lot more information on
this
page.